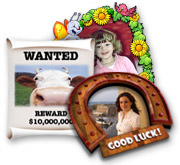 The Photo Frame Show Facebook Application allows you to frame your photos, add text and say it with style!

Send personalized e-cards to your friends in just a few clicks. Select from loads of frame designs and categories and make your photos come alive; because every captured moment needs its frame!

This application will make your photos and photo sharing experience much cooler!
Already have a Facebook account? All you need to do is sign in to your account and add the Photo Frame Show Facebook Application
Don't have a Facebook account? It's very easy to create one and completely FREE! Simply visit Facebook.com and sign up for an account. After you register, sign in, and add the Photo Frame Show Facebook Application