Have a website, blog or online presence?
Let your visitors or community members create stylish framed photos
or send personalized E-Cards for free!
Add your favorite frames to your website in just minutes and let your visitors create unique framed photos for your favorite occasion, hobby, team, club, product, business... anything!
You can add a very simple code to any of your web pages, blogs, forums, etc. and offer a unique E-Cards service to your visitors similar to the example below.
An example of what you can add to your page if you have an OktoberFest related website, blog, forum or community presence:
Use any of the links below to create and send
personalized OktoberFest E-Cards to your friends!



Click on the image or click here
to frame your own photos with this frame!



Click on the image or click here
to frame your own photos with this frame!
Your visitors can then easily create framed photos based on your selected frames, like the following...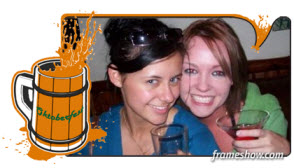 ... which they can afterwards save, upload to their online albums, send to their friends or, if you like, even to your own service!
All this free, embedded to your website in just minutes!
1. Enter the ID of the frame you are interested to embed to your website and click the "Go" button:
(find Frame IDs at Frame Gallery)


Frame ID: 0001511

2. Right-click on the image above and use the "Save As" option to download the frame's thumbnail image to your PC.
3. Upload and add the thumbnail to your website, blog, etc., along with any accompanying text.
4. Use the following URL as a link on both the image thumbnail and your "click here" text:
URL for frame 0001511:

https://www.frameshow.com/ecard_application/photo_frame_ecards.php?caller=embed&frame_id=0001511
You are done!
Your visitors can now create stylish framed photos for your favorite occasion through your own web presence!
Note: While not required, you may also become an affiliate of our service and earn from 30% up to 45% in commissions for any purchases made by users coming from your web pages. For more info on this opportunity visit our Affiliate Program website.
Offer frames designed by you (and credited to you)
in our Frame Gallery!
FrameShow.com serves as a platform for you to promote your design skills, hobby, team, club, products, business, etc. based on the frames you create!
You can easily make your own frame designs available to your favorite groups, friends, website visitors, social communities, or other external sources of your own choice by submitting them to our Frame Gallery.
Send us your own frame creations and we will adapt them to our special format so that they can be compatible with our Frame Gallery, Desktop Application and E-Cards service!
Read how you (or your designer)
can create and submit your own frames!